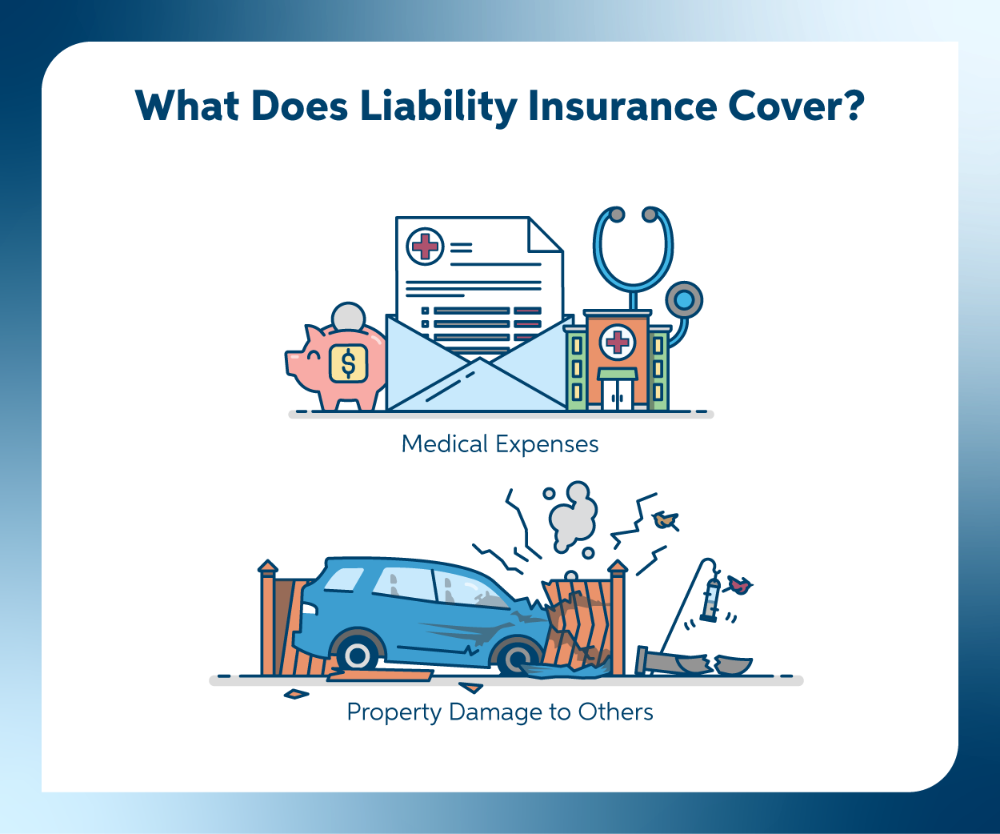 Whether you need it for your business, car, or house, liability coverage is a crucial piece of your insurance policies. It can be the difference between a catastrophic financial loss and being able to handle the situation confidently.
1. What is liability insurance?
Liability insurance is a term used when referring to a portion of an existing insurance policy.
Broadly speaking, liability coverage provides financial protection if somebody makes a claim against you because of an injury, property damage or other covered loss.
Essentially, if you are deemed legally obligated to pay damages, the liability coverage within the applicable insurance policy may help you pay for those damages.
2. What does liability insurance cover?
This will depend on what type of insurance policy you need for liability coverage.
So, let's look at the common policies that typically include liability coverage and what it covers.
Auto Insurance
Liability coverage within an personal auto insurance policy or commercial fleet insurance can pay for covered damages resulting from an auto accident, like:
Property damage to the property of others
Bodily injury
Business Insurance
Business insurance policies have a wide range of options for liability coverage because of the risks that come with owning a business. Generally, when you're looking at what liability insurance covers for a business, it may include:
False advertising accusations
Damaged property of others
Bodily injury
Data loss expenses (if you include cyber liability coverage)
And more
Home Insurance, Renter's Insurance, Condo Insurance
The liability coverage within a home insurance policy, renters insurance policy or condo insurance policy may include:
Medical payments to others who are injured at your residence, which may apply regardless of fault
Certain incidents you're liable for even while you're away from home like when you accidentally hit your golf ball a little too far and cause property damage or injury.
3. Why do I need liability insurance?
You can't anticipate what may transpire after a covered loss, which is already a stressful situation. Besides providing financial protection, it may also be required by your state or, if you own a business, it may be required by the industry you're working in.
4. What coverage limit should I have on liability?
Almost as important as actually having liability coverage is making sure you select an adequate limit. This will again depend on your situation and what insurance policy you want to include liability coverage. Talking to a local, independent insurance agent is a great way to get advice about what limit may protect you best.
Liability insurance is a crucial part of several insurance policies. Talk to Aaron Smith at Anchora Insurance today to make sure you're adequately covered.
Disclaimer: The analysis of coverage is in general terms and is superseded in all respects by the Insuring Agreements, Endorsements, Exclusions, Terms and Conditions of the Policy. Some of the coverage mentioned in this material may not be applicable in all states or may have to be modified to conform to applicable state law. Some coverages may have been eliminated or modified since the publishing of this material. Please check with Anchora Insurance for details.